Waiting On Wednesday is a weekly event that is hosted by Jill at Breaking the Spine and spotlights upcoming releases that we're eagerly anticipating.
---
This Waiting On Wednesday post is The Retribution of Mara Dyer by Michelle Hodkin, which is the one which is sure to break my feels.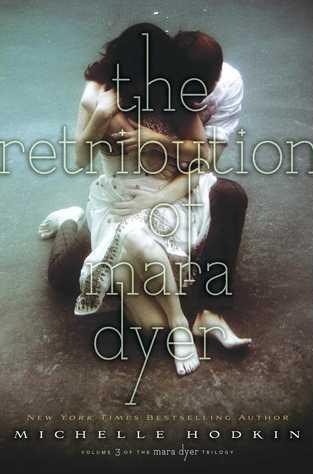 The Retribution of Mara Dyer by Michelle Hodkin
Series: Retribution #3
Published by Simon & Schuster Books for Young Readers on November 4th 2014
Genres: Young Adult, Paranormal
Add on Goodreads
Mara Dyer wants to believe there's more to the lies she's been told.
There is.

She doesn't stop to think about where her quest for the truth might lead.
She should.

She never had to imagine how far she would go for vengeance.
She will now.

Loyalties are betrayed, guilt and innocence tangle, and fate and chance collide in this shocking conclusion to Mara Dyer's story.
Retribution has arrived.
Why Am I Waiting on This?
Let me start off by saying that I'm sure there's a whole hell of a lot of people out there waiting for this one. I've narrowed down my reasons to a list of 5.
1. NOAH FLIPPING SHAW
If you're reading this I'm going to assume that you've read books 1 and 2 since this is a post about book 3. Anyone who read book 1 fell in love with Noah, like head-legit-over-heels in love (and let's be real, if not love then lust *swoons*). He's attractive, witty, snarky, British, loves animals, and saves/heals people. It's a no brainer. This is all fine and dandy and book 2 is great with how he's trying to help Mara–I mean he got himself locked up in the mental facility with her, that's screams dedication–until we get to the end. And then you just sit there staring into space all the while thinking one thing: WHAT HAPPENED TO NOAH!?
2. Mara
Another gigantic reason I need this book in my hands is so I can find out what the hell is going on with Mara. She's just so creepy and at the same time a little bit awesome. If I didn't think people would try to have me committed I'd say I aspire to be her. (But really I don't need this freaky paranormal-ghost-I-don't-even-know-what happening in my life. I'm an engineering major, I've got enough things to worry about.
3. DAT COVER
The book covers for this series are probably my all time favorite book covers ever. I need this one on my shelf so I can face it out and stare at it all day. Now I'll admit that I am unfortunately in Austria this semester so I will miss the release of this, BUT have no fear I already preordered it on my Kindle. You better believe though, that the first thing I'm doing when I land in the US and step off the plane December 18th is going to the closest bookstore so I can get a physical copy. Because DAT COVER.
4. The Chapter 1 Excerpt & Corresponding Fan Art
If you haven't read the Chapter 1 excerpt you NEED to. Like now. Read it
here
on USA Today. It's so creepy and wonderful and everything and more that I'm looking forward to read!
After this Chapter sneak peek got release I got these scenes from horror movies stuck in my head because they went so well with what I read from the book and low and behold some awesomely talented people made some fan art inspired by the sneak peek and Michelle Hodkin posted it on her Tumblr. Below is my favorite (credit goes to neitherheavenorhell). [Major props to them because I am in no way talented enough to make an edit this awesome. *bows to your awesomeness*]
5. I feel like I've waited my whole life for this moment
Okay I know I haven't waited my whole life, but I have waited a pretty long damn time! Book 2 came out October 2012. Book 3 was originally going to come out Fall 2013 and I was sooooooo excited. But then it got pushed back to May-ish 2014 and I was like 'Okay Alex. Calm down. You can do this. You're okay. You're fine.'
And so it got close to the end of the month release date and I reread the first two books in eager anticipation only to find out that I missed the memo and that the release date got pushed back. Again. I've been eagerly awaiting this for 2 years. That's a long time. I don't really think there's been a week during those 2 years when I haven't given this book at least an inkling of a thought. Like I am so ready for this guys.
Anticipation in a GIF
---
I've gotten so emotionally invested in not just the release of this last book, but the entire series as a whole. The fact that Retribution is the conclusion and it's almost out makes me want to jump with joy like a crazy person but the fact that it's the conclusion and once it's out it's all over makes me want to curl up and sob a little bit (a lot). This one is sure to break my feels in probably what will be equally the best and worst ways possible.
What are you waiting on this Wednesday? And are you obsessed with it as I am with The Retribution of Mara Dyer? Let me know in the comments.
Related Posts