I received this book for free from Paper Lantern Lit in exchange for an honest review. This does not affect my opinion of the book or the content of my review.
Truth or Dare

by Jacqueline Green
Also by this author: Secrets and Lies, Kiss and Tell
Series: Truth or Dare #1
Also in this series: Secrets and Lies, Kiss and Tell
Published by Little Brown Books for Young Readers on May 14th 2013
Genres: Contemporary, Mystery, Thriller
Pages: 416
Format: Paperback
Source: Paper Lantern Lit
Amazon | Barnes & Noble
Goodreads

When a simple round of truth or dare spins out of control, three girls find it's no longer a party game. It's do or die.

It all started on a whim: the game was a way for Tenley Reed to reclaim her popularity, a chance for perfect Caitlin "Angel" Thomas to prove she's more than her Harvard application. Loner Sydney Morgan wasn't eventhere; she was hiding behind her camera like usual. But when all three start receiving mysterious dares long after the party has ended, they're forced to play along—or risk exposing their darkest secrets.

How far will Tenley, Caitlin and Sydney go to keep the truth from surfacing? And who's behind this twisted game?

Set against the backdrop of Echo Bay, an isolated beach town haunted by misfortune, Truth or Dare is a highly charged debut that will keep readers in suspense from beginning to end.
Before this review I feel like I should point out that I have not read the Pretty Little Liar books and have only sporadically watched the TV show. I point that out because a lot of reviews I've seen for this series compare it to the Pretty Little Liars books and say it's a 'Pretty Little Liars knockoff.' For me personally from what I have and haven't read/seen, I see some general comparisons but nothing that constitutes labeling Truth or Dare as a knockoff.
In Truth or Dare, three teen girls are forced to play games and jump through hoops to keep their deepest and darkest secrets, just that: secrets. Someone knows their secrets and threatens to release them if they don't play a little game of Truth or Dare. The game is simple: The darer leaves the girls notes, telling them to do something–often jeopardizing another person's secret–or deal with the entire school finding out their own dirty little secret. This means that somewhere among the three of them, there is a person who knows everyone's secrets. Scary right?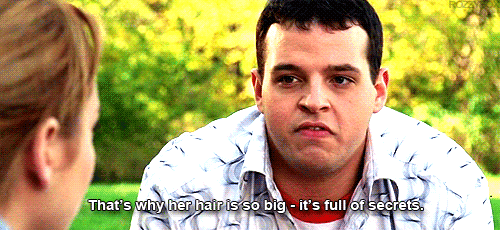 The concept of Truth or Dare is similar to Pretty Little Liars but it's also similar to a lot of other YA novels out there including a recent read of mine, Gone Too Far. To say that Truth or Dare is a knockoff of another book I feel is inaccurate. It's more accurate to say that Truth or Dare has a subject that has been done again and again. That being said, I enjoyed it. I've read probably a handful of books that have the same sort of 'all-knowing secret person' like in Truth or Dare and this one is one of the more well done ones.
I enjoyed the pacing of Truth or Dare. There's so much going on with each of the three girls. Since there's alternating point of views, we see exactly how the darer is tormenting each girl, which was a nice touch. It helps the reader to be able to formulate some guesses as to who the darer is. It's good that the pacing was relatively quick because this one is a lengthy one, which makes sense since we've got three different point of views.
The mystery and suspense was top notch in my opinion. The dares to the girls came so often and many times ending up snowballing into a whole other issue that I found myself racing through trying to find out what the heck happens. Jacqueline gave us so much mystery surrounding the darer that it's almost annoying. I mean you can make your prediction but then something happens and you get unsure of it until something new comes up and you're like well maybe it is. I found myself going back and forth trying to figure out who the darer was which I feel is a strong point to have for this particular book.
The characters were perfection. Jacqueline created such realistic characters with depth and personality. I found myself really connected to them because Jacqueline did a great job making sure we really knew them. Tenley is the typical mean girl, that much is true.
Caitlyn is more of the goody-goody girl. She's perfect inside and out. (She's the kind of girl who you might want to hate, but you just can't because she's literally the nicest person you've ever met.) Sydney is like the girl next door. She could be anyone. She's into photography and isn't into petty high school drama. With each character, not just the three main ones, I felt like I knew them which was so unbelievably satisfying. I can't say I've had that with a book in a while.
The downside for me was the ending. First, something happens that I was kind of expecting given how everything was going near the ending, but I was so hoping that it wouldn't happen because it's sad and tragic. Second, we don't really gain anything with the ending in terms of closure and discovering the truth about the darer. It's like this thing happens and that's the end. It's annoying not getting a lot of explanation with that ending because I feel like it would've made it a more satisfying ending.
Favorite Quote:
"I live by the rule that when your mom starts wearing tighter jeans than you, her opinion stops mattering." -p. 137
Review in Review:
Truth or Dare was a satisfying read. If you're looking for a drama and suspense filled realistic book about teenagers, I'd say this is the one for you. If you're a fan of Pretty Little Liars and looking for something similar, I'd say give Truth or Dare a try.
About the Author:
Jacqueline Green received a BA from Cornell University and an MFA in writing for children from the New School. She grew up in Wynnewood, Pennsylvania, and now lives in Brooklyn, New York, with her husband, daughter, and their tiny dog. She is the author of the Truth or Dare series.
Related Posts