I'm not one for tradition, but there's one thing that I seem to do every year around the holidays without even realizing that I'm doing it and that is…
Reread Harry Potter!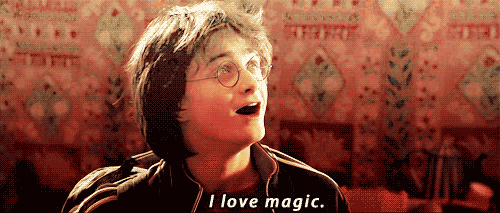 Why do I reread Harry Potter?
It's a classic
While not officially a classic yet I don't think, Harry Potter is as good as a classic in my book.
It's the series that got me into reading when I was younger and it's a series that almost every single person on the street knows about–whether from the books or movies. You just can't go wrong with it.
Harry is my hero
When I was in 4th or 5th grade, I had to get glasses and I remember reading Harry Potter and thinking it was so cool that this practically-superhero had glasses just like me. Reading about his life and his many adventures is thrilling and I love being able to escape into his world for seven whole books.
Every Character is outstanding
J.K. Rowling builds this entire infrastructure of characters. It's not just Harry, Hermione, and Ron. It's also Neville, Hagrid, Draco, Dumbledore, Dobby, Fred, George, Ginny, Lupin, Sirius, it's literally all of the characters. I don't think there's one character that J.K. Rowling mentions that doesn't have a real personality and place in this series. It's so incredibly detailed and extensive that it makes you wonder in the back of your mind if this all really did happen and J.K. Rowling is just the one who wrote it down.
Whether it's watching the movies, reading any edition of the books you own, or listening on audio, everyone should read harry potter!
---
Do you wear glasses like Harry and I?
Check out GlassesShop.com. They offer a wide variety of prescription glasses and prescription sunglasses. With such fun colors and frames to choose from, they make buying glasses online super easy! Check it out and use coupon code GSHOT50 for 50% off eyeglasses and sunglasses with free lenses (excluding sale frames).
I'll be wearing my new glasses during my reread of Harry Potter this holiday season!